Thai food was traditionally eaten with the hand while seated on mats or carpets on the floor or coffee table in upper middle class family, customs still found in the more traditional households. Today, however, most Thais eat with a fork and spoon. Tables and chairs were introduced as part of a broader Westernization drive during the reign of King Mongkut, Rama IV. The fork and spoon were introduced by King Chulalongkorn after his return from a tour of Europe in 1897 CE.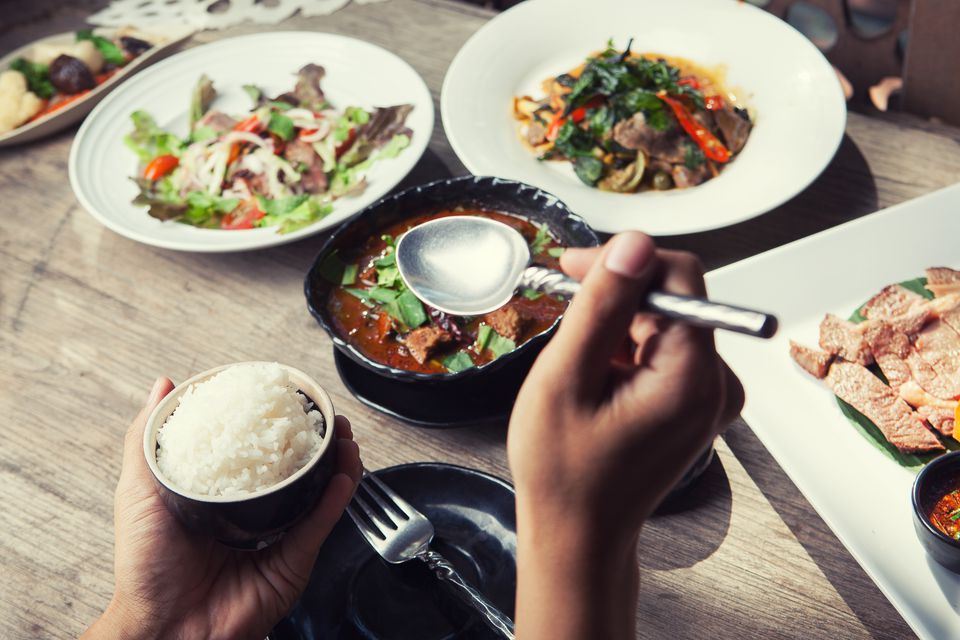 Important to Thai dining is the practice of khluk, mixing the flavors and textures of different dishes with the rice from one's plate. The food is pushed by the fork, held in the left hand, into the spoon held in the right hand, which is then brought to the mouth. A traditional ceramic spoon is sometimes used for soup, and knives are not generally used at the table. It is common practice for both the Thais and the hill tribe peoples who live in Lanna and Isan to use sticky rice as an edible implement by shaping it into small, and sometimes flattened, balls by hand (and only the right hand by custom) which are then dipped into side dishes and eaten.
Chopsticks were foreign utensils to most ethnic groups in Thailand with the exception of the Thai Chinese, and a few other cultures such as the Akha people, who are recent arrivals from Yunnan Province, China. Traditionally, the majority of ethnic Thai people ate with their hands like the people of India. Chopsticks are mainly used in Thailand for eating Chinese-style noodle soups, or at Chinese, Japanese, or Korean restaurants. Stir fried noodle dishes such as pad Thai, and curry-noodle dishes such as khanom chin nam ngiao, are also eaten with a fork and spoon in the Thai fashion.
Thai meals typically consist of rice (khao in Thai) with many complementary dishes shared by all. The dishes are all served at the same time, including the soups, and it is also customary to provide more dishes than there are guests at a table. A Thai family meal would normally consist of rice with several dishes which should form a harmonious contrast of flavors and textures as well as preparation methods. Traditionally, a meal would have at least five elements: a dip or relish for raw or cooked vegetables (khrueang chim) is the most crucial component of any Thai meal. Khrueang chim, considered a building block of Thai food by Chef McDang, may come in the form of a spicy chili sauce or relish called nam phrik (made of raw or cooked chilies and other ingredients, which are then mashed together), or a type of dip enriched with coconut milk called lon. The other elements would include a clear soup (perhaps a spicy tom yam or a mellow tom chuet), a curry or stew (essentially any dish identified with the kaeng prefix), a deep-fried dish and a stir fried dish of meat, fish, seafood, or vegetables.
In most Thai restaurants, diners will have access to a selection of Thai sauces (nam chim) and condiments, either brought to the table by wait staff or present at the table in small containers. These may include: phrik nam pla/nam pla phrik (fish sauce, lime juice, chopped chilies and garlic), dried chili flakes, sweet chili sauce, sliced chili peppers in rice vinegar, Sriracha sauce, and even sugar. With certain dishes, such as khao kha mu (pork trotter stewed in soy sauce and served with rice), whole Thai peppers and raw garlic are served in addition to the sour chili sauce. Cucumber is sometimes eaten to cool the mouth with particularly spicy dishes. They often feature as a garnish, especially with one-dish meals. The plain rice, sticky rice or the khanom chin (Thai rice noodles) served alongside a spicy Thai curry or stir fry, tends to counteract the spiciness.
When time is limited or when eating alone, single dishes, such as fried rice or noodle soups, are quick and filling. An alternative is to have one or smaller helpings of curry, stir fries and other dishes served together on one plate with a portion of rice. This style of serving food is called khao rat kaeng (lit., "rice covered with curry"), or for short khao kaeng (lit., "rice curry"). Eateries and shops that specialize in pre-made food are the usual place to go to for having a meal this way. These venues have a large display showing the different dishes one can choose. When placing their order at these places, Thais will state if they want their food served as separate dishes, or together on one plate with rice (rat khao). Very often, regular restaurants will also feature a selection of freshly made "rice curry" dishes on their menu for single customers.