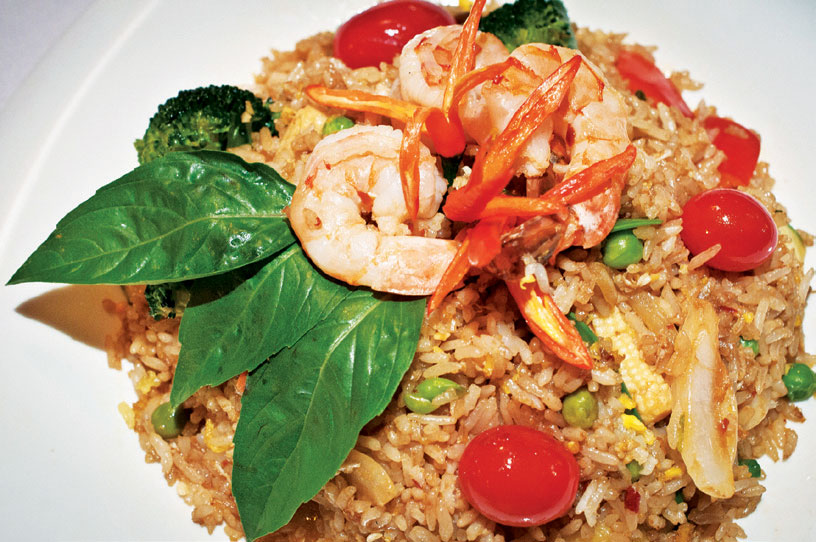 Fried rice is considered fast food in Thailand. It's quick and you can make it with mostly any ingredient you like for the variation. Everyone makes fried rice a little differently, you can always experiment, once you know the basic technique.
As quick and easy this dish is, there are essential tips needed to keep in mind if you want to make "good fried rice". As some say, fried rice is more of a formula than a single
recipe
.
Leftover cooked rice: The best rice to use is leftover rice that's been lying in the fridge for at least a day. You cannot make fried rice with freshly cooked rice! The grains of leftover rice is firmer and have no excess moisture, which makes it much easier to separate. You would only get "fried mush" instead of fried rice if you made with freshly-cooked rice. However, if you can't wait a day, you can at least let the rice cool for a few hours in an airy spot. Break loose the rice with your wet fingers.
Hot wok or large skillet: The reasons that restaurant-made fried rice has that smoky flavour is the high temperatures and the seasoned carbon steel woks that they use. The hot wok will caramelize rice with the soy sauce, and keep rice from sticking to the wok. It's all about high heat, and movement (from constant stirring)!
Basic ingredients: Cold rice, eggs, soy sauce, and green onions are my foundation of basic fried rice. However, with the more adventurous versions, this would differently applies according to recipes.
Add-on ingredients: You can use any kind of meats and seafood (shrimps, crab meat) you like, or leftover cooked meat in your fridge, or anything handy (ham, Chinese sausage, BBQ pork, or even Spam!) And for vegetables – peas, carrots, corn, tomato, bell pepper, Chinese broccoli, pineapple, raisin – any of these, and more, will do. Experiment with what you like.
Seafood Thai Fried Rice
4 cups refrigerated cooked rice
shrimp, squid, scallop
4 cloves of garlic, chopped
1/2 small onion, sliced
1/4 cup vegetable, or other cooking oil
1/4 cup soy sauce (I like Golden Mountain brand, or Mushroom flavor light soy sauce)
1 Tbsp black/dark soy sauce (optional – for color)
1 Tbsp sugar
4 eggs
4 green onions, chopped
White pepper powder (black pepper will do just fine)
Chopped cilantro
Lime wedge and cucumber slices (authentic Thai style)
Directions:
Heat the wok over high heat. Add half of the oil. Once the oil heated up, add eggs, scramble until almost cooked through, then push it to the one side of the wok.
Add the rest of the oil. Then add garlics, onions, and seafood. Stir quickly, until seafood is cooked and onion is soft.
Add rice and give it a good stir. Keep moving and gently press the rice with the back of spatula to loosen and mix in the ingredients. Stir and scrape – add a little more oil if you have to.
Add soy sauce, black soy sauce, and sugar. Stir to mix thoroughly.
Add green onion and white pepper powder. Stir just a little bit more to mix well.
Garnished with chopped cilantro. And serve with lime wedge (squeeze juice on top of rice before eating), then eat with the cucumber slides as a side. Enjoy!